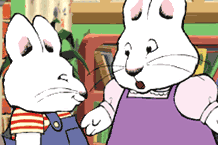 Isabel's favorite network, and quite possible mine, is
Noggin.
Great preschool television. She has learned so much from it. So many words and colors, counting, etc. It's rather repetitive, but I think that's the point.
One show that tends to stump Jake and me is "Max and Ruby." It's usually on while I am making dinner; 5 or 5:30 p.m.
It's a cute show. Ruby is a 7 year old girl who takes care of her 3 year old brother Max. Ruby is so polite and sweet and
patient
. Jake & I are forever groaning (i.e. we'd choke him) at Max and the things he does to test her patience. And test he does.
Only thing is...where are their parents?? It's really weird. Ruby is 7. She's baking, she's setting up a tent for an outside sleepover, she's taking the bus downtown with her brother, she's in a cafe' buying lunch. Where are the parents?
Yes, yes, suspension of disbelief, yada yada. Color me a cynic.
Wikipedia
says the same thing though, so it's just not me:
....Max, a rambunctious, anthropomorphised 3-year-old toddler bunny and his big sister, Ruby, a patient, goal-oriented, sometimes restrictive 7-year-old girl bunny. The show presents an uplifting message for its audience by showing Max and Ruby playing together and exercising respect and love in resolving their conflicts.

Oddly enough, it doesn't seem the two bunny children have parents. Even so, they have a grandmother who they are occasionally with. Ruby can be seen in many of the episodes baking cakes, buying Max new overalls and such things you'd expect of a mother. Although a picture of Max, Ruby and their parents can be seen above the fireplace in the show. Max and Ruby are the only two characters to appear in every episode of the show.



That's weird. Even weirder? Me blogging about it. :)