Congratulations to Justin F
., one of Jake's many cousins on his dad's side, on graduating high school. I have not
quite
forgiven him yet on his choice of schools though.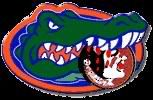 Go Gators!
I love that each and every one of Jake's cousins still call me Aunt Kaaren. (My ex was not there and was not expected to make it.) Every one of them either said "Hi Aunt Kaaren," or hugged/kissed me while saying it.
My ex sister-in-law even had a gift for Isabel, who is no blood relation to anyone. The whole family is truly a class act.