Day 3, Thursday evening.
We left Grand Teton NP and drove up to Yellowstone National Park, where we would be spending the night at the
Old Faithful Inn
. To say we were excited is an understatement. We were staying at the Inn....right next to
Old Faithful
. FOR. REALS.
We left Teton so late, I was in a grumpy mood. I wanted to spend as much time as possible at this Inn (it was expensive and we were only staying in it one night), and we did not get there until after 7 p.m. When you book a room, you get less than 24 hours in it. Usually check-in is around 3-4 p.m. and check-out around 11 a.m. Getting there at 7 seemed like a waste of very short time we had at the Inn.
Driving up to the Inn
The Ranger at the gate gave us this note. Made for some serious laughs.
I'm sitting in the car, waiting for David to check in, and there is Old Faithful. Right there!
We got our room keys and went in. Guess what? No AC. To Floridians, this is crazy troll-logic. Huh? What? Huh? The room was warm and they had a small desk fan for us to use.

The Inn

Several different geysers next to the Inn
We ate dinner at the cafeteria and went back to the Inn. Isabel and David wanted to sleep. Jacob and I wanted to explore the hotel, since we had gotten there so late in the day.
The clock on the fireplace inside the inn's lobby
We got some coffee from the Inn's coffee shop and explored the inn.
Unfortunately, by this late hour, the gift shop, several restaurants and snack shops were closed. We walked up to the second and third levels of the inn, drinking our coffee and admiring all the woodworking.
Later on, the night turned cool and the room with no AC was nice and chilly for a good night's sleep.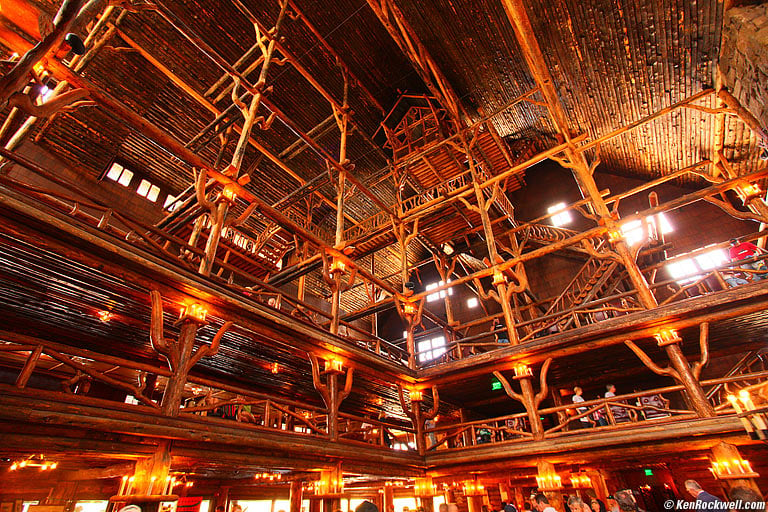 Photo from KenRockwell.com, not me.