We're back from the 2013 Orlando Color Run. HOLY COW am I tired. I just got up from an hour nap, with a headache, of course. I don't know why I nap; never works.
On Saturday the 12th, we headed down to the southern point of Orlando to pick up our runners' packets at The Sports Authority on Sand Lake Road. Took us about an hour to get there. It was well organized and we had our packets in about 15 minutes.
We ate lunch at Panera and walked around the CRAZY
Florida Mall
. Isabel's never been and Jake was 5 the last time we went there. Why so long? Because it's HUGE and full of tourists!
So here's our loot.
We each got a T-shirt and numbered bib, head band, color packet, wrist band and temp tattoos.
I purchased $5 Color Run sunglasses for Isabel and me, as we did not have any cheap ones to wear.
Sunday Morning, we got up at 6:30 a.m. and got ready to head out at 7:30 a.m.
Isabel's "before" picture
The day was cool and the drive clear. I had mapped out where I was going to park but I needn't have bothered. We were directed exactly where they wanted us to park. Okey doke.
The run was held at downtown Orlando by the Citrus Bowl. Ok, you out-of-towners: this is not Disney. This is downtown Orlando. We were walking through not-the-best areas of the city, but it was still a fun time.
The Starting Gate
Down the Start Chute
Hello!
She's Ready, she's ready!
We're waaaaay back here.
After they let about.....6 groups go, we were off. We had to wait about 1/2 an hour, but it was fun.
First kilometer was pink!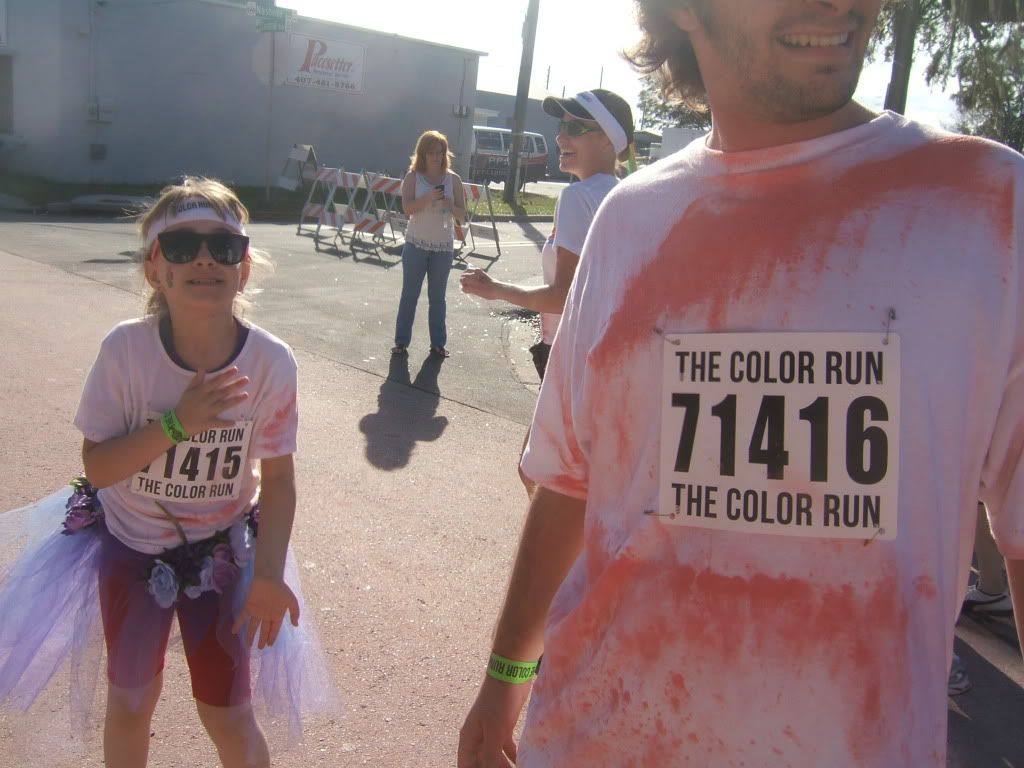 Through the pink.
Yellow time!
Someone's having fun!
What?
The blue zone was by far the craziest.