Earlier on,
I mentioned that I read a Young Adult series
, The Percy Jackson series, and that I really enjoyed it. Several friends mentioned other YA books for me to read, so I started reading a few.
The Maximum Ride series by James Patterson (yes, that James Patterson.)

I started liking the series but by the end of book 2, beginning of book 3, I was really not interested in it anymore. It was a little too YA for me. Meaning, I'm an old fart. After a while, the plot lines were the same and some of the things that happened to them didn't make sense. They kept getting themselves into situations that just got them caught, over and over (let's post a blog with our whereabouts The bad guys will never find us that way.) Again, I am an old fart, but these would be great for a Tween or Teen who doesn't get jammed up with plot devices. :)
The Pendragon Series by D.J. MacHale is another one I tried.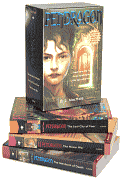 I purchased a three-book boxed set for Jacob several years ago and thought I'd give them a try. They're written in journal fashion and I liked the voice of Bobby Pendragon. The problem I had was this is this: So far, in the first 3 books, the bad guy is the same guy. The protagonists show up, fight the bad guy, endure trials, eke out a last-minute save where the bad guy shakes his fist ("I'll get you yet!!") and disappears, and they all move on to a new world to do it all over again. I stopped at book 3, mainly because we only own the first 3, and I have piles of books waiting for me to read already. I just don't know if I will continue the series. I can't really see myself reading the same formula 10+ more times.
I started reading Brandon Mull's "Fablehaven" and really enjoyed it. I am waiting to see if I can get the next books from Paperback Swap. The story is set in a haven for fae; imps, fairies, trolls, etc. The haven is run by Kendra and Seth's grandparents, and when the kids go for a summer visit, they get into more trouble than any kid could dream of.
Finally, I delved into an old favorite. The Anne of Green Gables series by L.M. Montgomery.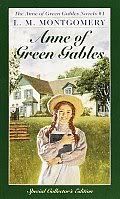 I read these so long ago, and only ready the first 3 books. I'm already done with book 4 of the series and have book 5 waiting on my dresser. This was written back in the early 1900's and deals with a sweet people in the town of Prince Edwards Island in the late 1870's, and a little orphan girl who accidentally gets adopted and has the wonderful opportunity to live in PEI, in a house called Green Gables. If you don't know the story, you should pick up a copy. It's so sweet and takes you to a place where happiness and laughter feels contagious. Yes, I am a hokey lady. I love this sweet simple series. My daughter is currently reading an abridged easy-reader version and I am waiting on the wonderful tv mini-series from Netflix, so I can watch it with her.
I'm currently reading book 1 in another YA series, but I'll let you know about that one when I'm done.