I'm so behind in my book reviews, I'm throwing 3 of them in one post.
"Xenocide" by Orson Scott Card is the third book in the 'Ender' series.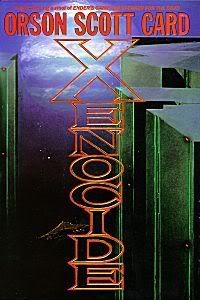 This book was better for me than book two. The dealings of all these species, religions, worlds, was fascinating. I especially liked his portrayal of the planet Path, where the most intelligent are called godspoken. The gods speak through them, through OCD tendencies. Fascinating stuff, how the government twists things and makes things seem what they are not. The book leaves you wondering what the heck Ender was thinking ("outside" Peter & Valentine) and wondering what comes next in book 4.
"Lost" was next, by Gregory Maguire (the author of "Wicked," "Confessions of an Ugly Step-Sister," "Mirror Mirror," "Son of a Witch," etc.)
Following the life of an author gone to London, Winifred Rudge, we see her there trying to get inspiration to write a novel about a woman haunted by the ghost of Jack the Ripper. What we don't understand, what we find later, is that the narrative in her head moves from the fictional book, to reveal things in her past that have made her the haunted woman she is today. While there, she tries to find a missing male cousin, deals with the haunting of this cousin's home and a secret shroud found in the walls of his apartment. With really annoying characterizations of Londoners, I found it hard to be sympathetic to this character at all, until then end, where her back story, having been revealed piecemeal, explains a bit more about why she is the way she is.
Finally, we have "Keeping Faith" by Jodi Picoult. I have decided that, for me, Ms. Picoult is not my cup of tea. I know, blasphemy. There are so so many Picoult fans out there, they can't be wrong. I, though, do not like her writing. Her main character in this book was so over-the-top obsessive in the beginning, that I could not see anything else. I get flawed characters, we all are. I just am tired of all of the characters in her books being in these crazy situations and dire straights. I need happy and don't think her books are for me. the 4 I have read have all been hard to trudge through for me, and I think I'll quit reading her while I am ahead.

"Keeping Faith" is about a mother's struggle with the fact that her child, her Jewish child, seems to believe that Jesus is talking to her. Suddenly, the word gets out that this child has performed a miracle, and their lives are thrown upside down. This OCD lady, Mariah, with her perfection that once drove her to a suicide attempt and that drove away her husband, now has to deal with people of all religions camped in her yard. Priests, Rabbis, network tv, a sleazy talk show host who wants to discredit Faith, all clamoring to talk to Faith, who has inexplicably raised her grandmother from the dead, an hour dead of a heart attack, with a kiss, and possible cured an AIDS child from his disease. Mariah then has to deal with her ex wanting custody of Faith because of the craziness surrounding their lives. I will say, the ending was a little sad, only for Faithand what she loses when everyone else seems to gain happiness.